Procedures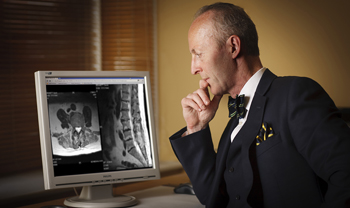 You will be required to wear a face mask at all times whilst in the practice. During your visits at our Hull clinics, Dr Gosselin will perform physical examinations that may include observation, palpation, orthopaedic, neurological and muscle testing testing before any type of treatment is attempted. Should it be indicated and safe to proceed, you will most likely receive a treatment on your first visit. You will find below examples of examination and treatments procedures divided into specific categories. Please note that these are demonstration videos only and that they are large files that are best downloaded with high speed broadband connections. All videos are produced by Primal Pictures Ltd and can be found on the CD-ROM entitled: Interactive Spine – Chiropractic Edition, by Webb, Gosselin, Cook, Lawrence (2002).
---
Muscle Testing
Muscle testing is an integral component of the patient examination process and provides information useful for the differential diagnosis and management of neuromusculoskeletal conditions. We must be precise when utilizing muscle testing in order to ensure that accurate results are obtained. Procedures may need to be adapted when assessing an elderly patient or a patient suffering pain and discomfort. Testing muscle strength determines the ability of muscles and/or muscle groups to provide stability, support, and their potential to produce movement. Muscle weakness can be caused by a variety of factors including disuse, trauma, pain, and neurological impairment; the diagnosis of which determines the treatment and management plan to be employed.
---
Orthopaedic and Neurological Testing
The examples presented in this section represent a broad selection of commonly performed orthopaedic examination procedures for the spine.
---
Motion Palpation
During motion palpation, the doctor will assess the function of each spinal joint in order to determine the level of function or restriction.
---
Spinal Manipulative Therapy
A spinal manipulation can be described as a passive manoeuvre during which a thrusting force in a well-defined direction and amplitude is applied on a vertebral or pelvic bone. This force will carry one bone from the involved articulation beyond the normal physiological articular range of movement, without exceeding the boundaries of anatomical integrity. In order to localize this force application to a specific segment, the chiropractor will place the articulation under tension by flexing, rotating and lateral flexing the joint. Each one of these components will vary according to the stiffness and articular surface geometry particular to each spinal region. The individuality of spinal manipulations lies in their high velocity and low amplitude. Historically, spinal manipulations were mainly low impulse manoeuvres: the very low pre-tension resulted in corresponding low force-time history curve integration. Today most of the manipulations used by manual therapists are high impulse procedures producing more momentum that is transferred to the segment being manipulated. The doctor will preload the segment, deliver the thrust, and then maintain some moderate load before removing the hands from the patient. This high impulse not only stimulates the local mechanoreceptors but might also affect the mechanical deformation of the time-dependent viscoelastic tissues surrounding the articulation. Obviously, this highly complex manoeuvre necessitates the appropriate psychomotor skills. Therefore, no spinal manipulation should be attempted by non qualified people.
Force-time history
In these typical spinal manipulation, a near constant pre-tension is applied for up to 2 seconds (s). The quick loading phase lasting 130 milliseconds (ms) is followed by a constant post thrust tension of approximately 1 second. These 3D force-time history curves were recorded using a new measuring device which consists of a piezo-electric 3D force sensor (preloaded with 10 kN) encased in a hand-held aluminum container, with a charge amplifier, an analog-digital-converter and a personal computer with data acquisition and real-time data presentation software. The data presented in the force-time history curve is based on the studies performed by van Zoest and Gosselin .
---
Rehabilitation Exercises
Here are some rehab exercises that are recommended to our patients.
---
East Yorkshire Back Clinic | 01482 334400